Local honey
from Saxony
Appearance 

Light,
creamy

Taste 

Aromatically velvety,
varies by harvest

Weight 

500g
Beekeepers from Saxony traditionally supply us
with their regional honey. Close personal contact
with local beekeepers is very important to us.
That's why we offer this honey as a local product.
Our local honey is a creamy pleasure that
delicately melts in the mouth.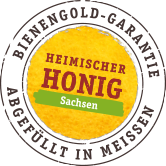 German
honey
Appearance 

Light,
typically
spreadable

Taste 

Floral

Weight 

500g
For our German honey, regional beekeepers supply us
with their selected country honey.